Electrical Federal Tax Credits
Does your next project qualify for Federal Tax Credits? Do you need an EV Charger or Electrical Panel/Service Upgrade? To schedule a free estimate, please call 262.523.2510 or complete the service request form.
REQUEST YOUR FREE ESTIMATE
Federal Tax Credits Available!
Check with your certified Electrical, HVAC and Plumbing Contractor. TOTAL is here to help you capitalize on the Federal Tax Credits available for homeowners. Contact us today for a free esitmate!
262.523.2510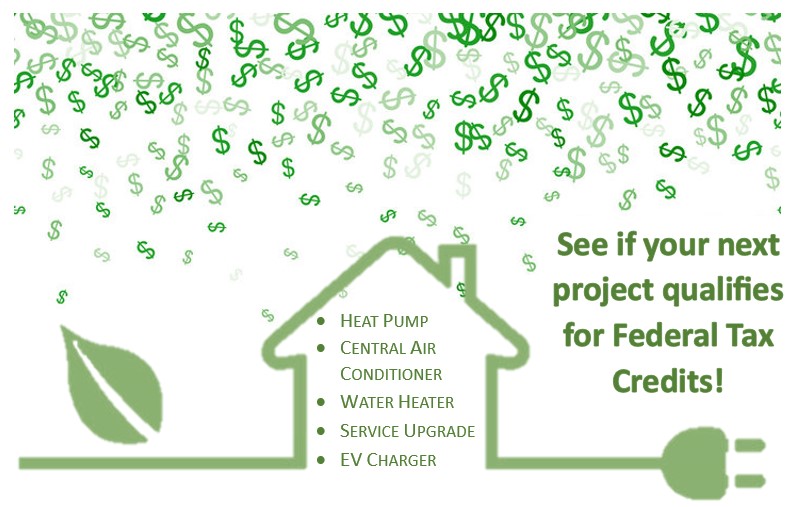 EV Chargers:
Home charging stations are the new necessity of owning an Electric Vehicle. For a faster, safer and more efficient way of charging your EV, manufacturers are recommending a certified EV Charger installed by a certified contractor. As your Electrical Contractor, TOTAL Residential is here to assist and recommend the EV Charger that meets every customer's needs.
 EV Chargers qualify for
Tax credit covers 30% (up to $1,000 per unit) of  the cost of the equipment
Bidirectional charging equipment is eligible
2 and 3 wheeled vehicle equipment is eligible
Electrical Panel Upgrade:
 Does your home experience frequent power surges or tripped breakers? Do your lights flicker when another appliance is on? Is your panel rusted, broken, hot to the touch or making a strange noise? It might be time to replace your home's electrical panel. Take advantage of the Federal Tax Credits!
 Electrical Panels qualify for
Tax credit covers 30% (up to $600) of  the cost of the equipment
Installed in a manner consistent with the National Electrical Code
Load capacity no less than 200amps
Installed in conjunction with any qualified energy efficiency improvements
Electric Vehicles:
Consult your tax professional for further details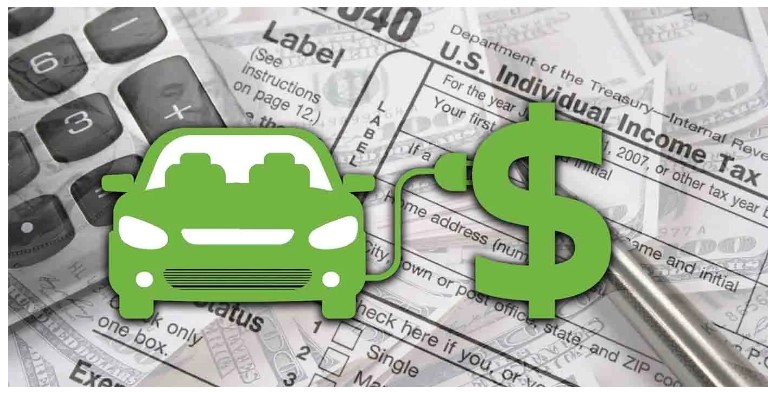 EV Chargers
Benefits of Home EV Chargers:
Cost Savings: Charge your vehicle outside of peak hours and avoid the unexpected fluctuations in gas prices.
Longer Battery Life:  "Fast Charge" stations are useful and convenient when you're in a hurry. Lower currents the home charging station has to offer, will increase the life of your vehicle's battery.
Increased Home Value: Add value to your home! With the increase in EV sales and demand, home charging stations will be the next luxury amenity when putting your home on the market.
Convenience: Eliminate the need to charge on the road.
Types of Chargers:
Level 1 (120V)
Easiest charging method
Utilizing a standard household receptacle
Adding 4 miles per 1 hour charge
Cautious not to overload a circuit
ALWAYS consult with your qualified electrician
Level 2 (240V)
Most popular and effective charging method
Adding 20-30 miles per 1 hour charge
Surge protection may be required
Electrical panel upgrade may be required
ALWAYS consult with your qualified electrician
Electrical Panels
Benefits of Electrical Panel Upgrades:
SAFETY! Older electrical panels increase the chances of home fires. Upgrade your panel to industry standards, keeping you and your family safe.
Provide adequate power to rooms throughout your home with the ability to add outlets and circuits.
 Get consistent and efficient power to your ouetlets and appliances. Older electrical panels could strain your appliances and increase your energy bills.
Contact TOTAL Residential for your free estimate today! 
 For more information about Federal Tax Credits, check out the links below or consult with your tax professional.
Energy Star – Electric Panel Upgrade Tax Credit
Electric Vehicles
Consult your tax professional to see if your EV qualifies for a Federal Tax Credit. 
For momre information about Federal Tax Credits, check out  the links below.
U.S. Department of Energy – EV

"Installation was professionally performed in an expedient fashion. The quality of  the products is evident in their performance. I trust this investment will comfort my home for many years. The ability to control my heating and air remotely from my smart phone was an added bonus! I am very satisfied with the entire experience.!"
Steve – Milwaukee

"I've used TOTAL Residential for all my heating, cooling, and plumbing on my new home. They truly provide a concierge-level of service. True professionals."
Michael – Wauwatosa